Overview 
Safe. Fun. Jewish.
Here at CGI our goal is that every Jewish child should have a home away from home, where they feel that they can grow in a physically and spiritually rich and Safe environment, with real friendship and care. Our highly qualified staff bring an unparalleled energy and excitement to our fun daily activities, which includes; Jewish learning and Mitzvot (Torah commandments / good deeds) themed activities, Fun crafts, sports training, grand trips, and much more, check out our testimonials to learn more about what CGI is all about. 
Staff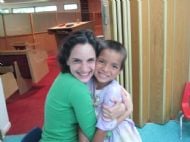 The real secret to our success lies in our outstanding staff. The staff members of Camp Gan Israel are highly talented individuals with years of experience in day camps and youth programs. They are dedicated to the well-being of each camper to ensure the most positive, Safe, Fun & Jewish experience possible. Staff members have come from as far away as Australia, Europe, South Africa and throughout North America. They join our local talent in fostering a sense of belonging with Jews the world over. It is the unique dedication and hard work of the staff that has made Camp Gan Israel a very special part of so many families' lives.
Jewish Culture
The hallmark of a Jewish camp is its Jewish content. The campers of Gan Israel are imbued with a deep sense of pride in their heritage and a profound love for the Land of Israel. In addition to daily Judaic instruction, our staff uses stories, videos, Challah baking, music, art, dance and much more to bring the beauty, values and traditions of our heritage to life. Many of our staff members have earned their teaching degrees in Judaic studies and possess a wealth of knowledge and creativity to provide your child with a memorable and exciting Jewish experience.
Sports & Athletics
At Gan Israel, campers participate in various sports activities, including soccer, basketball, baseball, football and much more. Our focus on good sportsmanship and self-confidence makes everyone a winner!
Swimming
Recreational swimming, water sports and swimming instruction is a delightfully refreshing element of the camp schedule. All aquatic activities are under constant careful supervision of certified lifeguards.
Camp Gan Israel has also added an on campus waterslide to the aquatic activities.
Field Trips
If there is something to visit in the Triangle area, chances are that Camp Gan Israel has been there! Our trips include the Museum of Life and Science in Durham, Panning for Gems, bowling, roller-skating, go-carts, miniature golfing, laser tag, boating, and more.
Special Activities
The daily schedule is complemented by exciting and unique activities. These include hiking, Capture the Flag, scavenger hunts, auction and international days to name just a few. These add to the special spirit of joy and pride that are by far Gan Israel's most prominent feature. Throughout the four weeks, Gan Israel offers your child the opportunity to participate in exciting extra curricular activities and trips. Late nights, cook-outs, a professional baseball game, an overnight trip to Myrtle Beach, our famous Shabbaton sleep over, and our grand trip to King's Dominion are just some of the "little extras" that we make available.
Arts and Crafts
Another way of blending Judaism into the camp day is having arts and crafts with a Jewish theme. The beautiful projects not only remind the children of their exciting summer, but can function in the home as a Mezuzah, Shabbat set etc.
Journalism and Drama
The "Gan Izzy Gazette" is a weekly publication containing a recap of the week, articles about important Jewish events and a variety of humorous articles. Campers are encouraged to contribute essays and articles, as well as assist with the layout of the publication. Campers may elect to take dance, song or creative dramatics. Instructors for each of these electives will help prepare them for the Grand Production during the last week of camp.